Top 5 : Faroe Islands International Football Victories

Football in the Faroe Islands has a long history, which in recent years has produced a competitive national side which can be held as an example to other smaller nations throughout the world. From surprise, upset victories to more recent excellent competitive performances, the Faroe Islands have left a significant mark on the international footballing landscape. Here we pick 5 of the best Faroe Islands international football victories.
1: 🇫🇴 Faroe Islands vs 🇬🇷 Greece
2016 ECQ – (A) Res.  0-1) / (H) Res. 2-1
The most famous and impressive set of results in the relatively short history of competitive fixtures for Faroe Islands international football undoubtedly came against Greece during Euro 2016 qualification.. An historic win in Greece was followed by an as impressive victory in the return fixture on home soil. These two victories stand as landmark results in Faroes football history.
2: 🇫🇴 Faroe Islands vs 🇦🇹 Austria
1992 ECQ – (H) Res. 1-0
The result that launched Faroe Islands football into the international consciousness, was a 1-0 win against Austria in 1990, with Torkil Nielsen responsible for the famous goal. The match was played at 'home' in Landskrona, Sweden with no grass pitch available in the Faroes at the time. The Faroese amateurs toppling their Austrian pro counterparts for a maiden competitive victory triggered wild celebrations at home and set Faroe Islands international football on it's way.
3: 🇬🇮 Gibraltar vs 🇫🇴 Faroe Islands
2014 Friendly – (A) Res. 1-4
Though only a friend match, it carries two significant historical notes. Firstly, the Faroe's victory will stand as Gibraltar's first official defeat in international football. Though, perhaps more importantly to the Faroese, the 4-1 winning results stands as a record win for the Faroe Islands national team, therefore matching a 3-0 victory against San Marino in 1995. Though winning away on the Mediterranean, with a record 4 goals thus making this result extra special.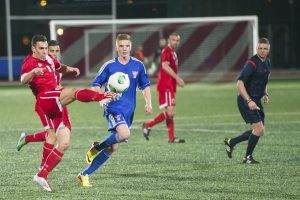 4: 🇫🇴 Faroe Islands vs 🇦🇽 Åland Islands
1989 Island Games Final Match (H) Res. 7-1
In 1989, the Faroe Islands picked up their first piece of international footballing silverware, the 1989 Islands Games Football Trophy. The games, hosted by the Faroe Islands, were the first to feature a football tournament. The home team pleased it's fans winning the tournament with a very impressive 7-1 victory over fellow Scandinavian opposition in the Åland Islands, in a high spot before joining UEFA in 1990. Bergur Magnussen's 6 goal tally secured his place as tournaments top scorer, with the Faroe's retaining the trophy in 1991
5: 🇱🇻 Latvia vs 🇫🇴 Faroe Islands
2018 WCQ (A) Res. 0-2
Finally, the most recent victory (at time of writing, 2017), was as accomplished as any on this list so far. Though others can be seen as upset results or triumph over 'lesser' teams, this 2016 victory over Latvia showed what a competitive side the Faroe Islands now are. Goals either side of half time in this excellent display show how far Faore's football has come, 30 years since FIFA admission. With a history of fine results and a fine crop of talented players in this generation capable of results, such as against Latvia, Faroe Islands football has truly come of age.
Honourable Mentions
Though these are just a pick of many great results in Faroe Islands football history, there are many others worth of consideration.
In the final Nordic Championship the Faroes earned a 0-0 draw against a rookie Sweden side featuring the international debut of Zlatan Ibrahimavic, being kept scoreless on this occasion.
The entire 2004 Euros qualifying campaign feature many "almost" moments. leading late in Torshavn to Scotland before a late equaliser for a 2-2 result. Germany had two scares, being 0-0 in Torshavn until two goals in the final minute to break Faroese hearts. In the return fixture, Germany won 2-1, though not before the Faroe's hit the post late in game, narrowly missing on a famous result. Finally losing 2-1 to Iceland in Reykjavik after a 90′ minute Iceland goal, though the campaign showed much promise.
Finally, the Faroes have success with all Baltic states, holding wins over Estonia, Lithuania and the aforementioned Latvia, along with Canada, Kazakhstan, and European rivals Iceland, Luxembourg, San Marino, Malta, Gibraltar and Liechtenstein.
Complete list of Competitive Faroe Islands Victories
| | | | |
| --- | --- | --- | --- |
|  12/9/90 |  🇫🇴 Faroe Islands |  1-0 |  🇦🇹 Austria |
|  25/5/95 |  🇫🇴 Faroe Islands |  3-0 |  🇸🇲 San Marino |
|  11/10/95 |  🇸🇲 San Marino |  1-3 |  🇫🇴 Faroe Islands |
|  30/4/97 |  🇲🇹 Malta |  1-2 |  🇫🇴 Faroe Islands |
|  8/6/97 |  🇫🇴 Faroe Islands |  2-1 |  🇲🇹 Malta |
|  24/3/01 |  🇱🇺 Luxembourg |  0-2 |  🇫🇴 Faroe Islands |
|  1/9/01 |  🇫🇴 Faroe Islands |  1-0 |  🇱🇺 Luxembourg |
|  9/9/09 |  🇫🇴 Faroe Islands |  2-1 |  🇱🇹 Lithuania |
|  7/6/11 |  🇫🇴 Faroe Islands |  2-0 |  🇪🇪 Estonia |
|  14/11/14 |  🇬🇷 Greece |  0-1 |  🇫🇴 Faroe Islands |
|  13/6/15 |  🇫🇴 Faroe Islands |  2-1 |  🇬🇷 Greece |
|  7/10/16 |  🇱🇻 Latvia |  0-2 |  🇫🇴 Faroe Islands |