Tranmere's Cup Run 2001

20 Feb 2001: Paul Rideout of Tranmere celebrates after the AXA FA Cup fifth round replay between Tranmere Rovers and Southampton at Prenton Park, Tranmere. Mandatory Credit: Michael Steele/ALLSPORT
The FA cup. The essence to it's magic is the great David and Goliath battles which spring up throughout the competition. These are often best exemplified in the early rounds, when introduced to the public is a team of teachers, builders and butchers trying to pit their wits against seasoned pros from the football league. Such occasions provide a great narrative to the true underdog story. However in the upper tiers of the football league, the tale of the underdog is as alive and magical than at any level of the football pyramid. Case in point is Tranmere Rovers FA Cup run on the 00/01 season.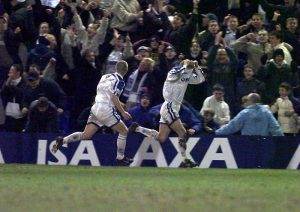 In the summer of 2001, Tranmere Rover's situation could've been considered quite poor. Relegated from division 1, bottom of the table and 11 points from safety ending their 10 year run at that level. Add to this they were left manager-less following John Aldridge's departure. However that year season will live long in the memory as a year of great achievements. Their run to the quarter finals of that years FA Cup embodies most, if not all of the underdog story.
The story begins with a 3rd round tie away at fellow first division strugglers Portsmouth. A tie which, on paper was quite winnable proved so as Rovers ran out 2-1 winners. This set up a mouth watering tie against local Merseyside rival Everton. Aside from the natural interest in a derby cup game, this game had special relevance for Tranmere striker Paul Rideout. Formerly of the aforementioned Everton, Paul Rideout had been a promising English striker in the mid nineties. This was best encapsulated by his 94/95 season comprised of a 1 in 2 strike rate in the league, topped off with scoring the winning goal in that years FA Cup final against Manchester United.
However following this, his chance in the Everton side became limited and at the end of 1996 he was transferred to China to play for the 'mighty' Qianwei Huangdao! Now something of a journeyman, with spells in MLS with Kansas before returning to china for two more years, his departure from Everton seemed to have derailed his career. However he was plucked from obscurity by Tranmere, where he was to finish out his career. This meant that this particular 4th round tie had extra spice, pitting the cup hero against his former victorious teammates, both of whom had failed to follow on from their cup success.
A crowd of almost 40,000 arrived at Goodison Park to watch the spectacle. In Tranmere's favor was a previous seasons run to the league cup final, taking premier league scalps of Coventry and Middlesborough and and FA cup run claiming West Ham. However, nobody could've predicted the final result, Tranmere Rovers 3 – Everton. 2 Goals form Mark Yeates with a Jason Koumas goal in between. Particular note to Tranmere's winger that day, Andy Parkinson who's pace was a constant thorn in Everton's side that afternoon, mainly against David Unsworth. Everton left in shock, Tranmere through to the 5th round to play another premier league side, Southampton.
The first match itself is widely forgotten. However it should be a footnote in history the Tranmere did get a well earned draw away to Southampton to force the replay back to the Wirral. However it served as only a prelude to perhaps the game of the season. In between games the draw for the next round revealed that the winners of the tie would face Liverpool. No bigger an incentive would be needed. Some 13,000 people squeezed into Preton Park for the mid-week evening replay. Rovers had got a taste for cup success and were keen to take another scalp. However by half time it was effectively game over! Southampton were rampant, dominating all over the field to lead 3-0 at the break, a score that may have even been a little kind to Tranmere. Goals from Kachloul, Tessem and Richards doing the damage. A chorus of boos saw Tranmere off at half time. Cup adventure over…
Or not….A rousing team talk from John Aldridge along with an attacking substitution (Barlow for Chanillor) sent the team out looking for little more than to salvage pride. More than pride, the took home the win. 59mins- Paul Rideout turns home an Andy Parkinson shot from close range. 70 mins- Rideout left unmarked at a corner to head hone from three yards, a roar goes up from the Prenton Park faithful. 80 mins – Paul Rideout caps off his hat-trick heading home from a Parkinson cross, Prenton park is bouncing, Southampton are stunned and Aldridge is left with the decision to stick or twist. Southampton are shaken and are there for the taking but the comeback could be undone by over zealous attack from a rush of blood to the head. However the home side were a model of composure.
84 mins- A throw in is flicked on into the path of Barlow in the 6 yard box to poach home the winner. A mix of disbelief and elation and ecstasy along with other various heightened emotions flood throughout the stadium. Cries for the final whistle ring-out as the game is in stoppage time. However the final piece of dram lies with Dean Richards of Southampton who in added time who just failed to connect to a cross with a gaping goal at his mercy. It was not to be as the football Gods were shining on Rovers that night, and following a final clearance, the result was signed to the history books. Tranmere had turned a 3-0 half time deficit into a 4-3 win to set up a dream derby tie with Liverpool. A true game of two halves…