Football During a Pandemic – The Last Holdouts Against Coronavirus

Empty Stadiums, an almost universal sight during the COVID-19 pandemic
As the global game and world at large has come to an effective standstill during the outbreak of the coronovirus pandemic, the current coronavirus football situation has led the football community to slowly come to terms with dealing with the effects of it. From closed door games, to cancellations, to dealing with the financial impact to clubs and players… day by day, measures are updated to best manage the situation for all involved.
However, in a limited number of countries, not all has come to a stop. It is a situation that is ever changing, but game of football has not come to a complete stop, with the flame of the game been kept lit in it's last remaining outposts. Some such as Western Sahara football are always under trying times, in the current coronavirius football landscape, some as Turkey and Australia held on until cancellations were unavoidable, while in other corners or the globe, the games continue.
Current Leagues
---
Belarus
The most consistent of these has been the Belorussian league, maintaining a full schedule behind closed doors from their March season start, including Champions League regulars BATA Borisov.
However as the BBC reports there is growing pressure from supporter groups to boycott games, in spite of president Lukashenko's resistance to disruption at this time, though no cancellations seem to be on the horizon in Belarus. Despite this, Fifpro and it's general secretary Jonas Baer-Hoffmann have condemned the continuation of the league, saying,
"It is frankly not comprehendible how this could be going on"
On the field however, the surprise of the early stages has been two defeats from two for BATE. This leaves BATE to sit level bottom of the table. At the top 4 teams have made perfect starts with Minsk and Energetyk-BGU level on top on goal difference as the early pacemakers.

Slavia Mazyr v BATE

Minsk Derby

Neman v Vitebsk
Nicaragua
The sole league continuing in the Americas is that of Nicaragua, currently in it's Apertura phase of the 2019/20 season. However with case of Corona virus being confirmed in the county, The Guardian has reported 3rd placed Diriangén has expressed a wish to suspend the league, with fears among there players and staff of the current situation. However with government pressure to fulfill fixtures, and with their funding influence among a majority of teams in the league, no stoppage seems imminent.
In contrast there are opposers of the current situation. The league running as usual is seen as a platform for president Daniel Ortega's domestic display of stability and normality. In this environment, he is unlikely to accept dissenting voices from clubs. Clubs have raised occasional concerns by some such as Real Madriz, but such comments are quickly retracted.
On the field Managua from the capital sit two points clear at the top of the table. They lead from Real Estelí, who defeated them after extra time in the 2nd of a two legged Apertura final in December.

Real Madriz FC v CD Ocotal

CD Ocotal v Real Estelí FC

JuventusFC v CDWalter Ferretti
Burundi
In contrast to other countries which continue, there is a great appreciation for the scale of the Coronavirus pandemic. With just now the first two officially confirmed cases in the country, no reason has been found to cancel regular events such as church mass, or football games, though it is now in question. Also, on what current coronavirus football measures can be taken. For instance, they refused to select European based players for national duty. This whilst international fixtures were still possible and were among the first calling on CAF to suspend such fixtures.
As such, the league, as the country as a whole runs in isolation to the outside footballing community. Therefore, Aigle Noir are now certain to cede their title won last season, the first in the clubs history. With only four game weeks remaining, Le Messager have played one game extra, to sit 4 points clear from Musongati. The league now looks set to go down to the wire.


Vitol'O Fc v Musongati

Athletico Academy v Aigle Noir

Inter Star Vs Buja City
Turkmenistan
The Turkmenistan football league calender kicked off as usual on March 6th. While Köpetdag Ashgabat were the dominant force post independence,recent seasons have seen success be in the hands of city rivals Altyn Asyr, winning all titles from 2014-2019. Most often runners up in this time is Ahal, based in Anau, outside the main and some 15km from the Ashgabat Stadium which they share. However yet anagain in 2020, it seems these two will be those fighting once again for the title.
*Update 1-6-20 – Thanks to the work of the people of the Russian "Other Football" news site, match footage was been captured, including full games, so be sure to check their site for the very latest updates on the 2020 Ýokary Liga.
Leagues To Come
---
Tajikistan
A new contender to this list though will be that of Tajikistan which has confirmed it plans to play it's season curtain raising Super Cup as planned, albeit behind closed doors. With zero local confirmed cases of Coronavirus, it has been deemed there is no coronavirus football schedule changes. On March 31st Istaravshan heavily defeated league rivals Isfara 6-0 in a pre-season friendly, signalling their intent for the campaign. This gives good preparation for their season opener against Khatlon on Sunday April 5th. However Sunday's opening round of league fixtures will be pre-empted by the curtain raising Tajik Super Cup on Saturday with defending league/cup champions Istiqlol, playing the league runners up Hujand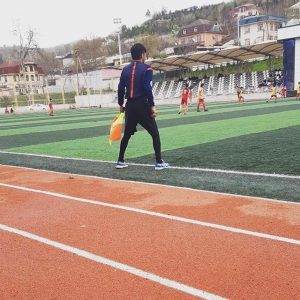 Istaravshan 6-0 Isfara –
@rasulovjr23
Taiwan
The 2020 Taiwan football season will commence on April 12th. Current champions Tatung FC will look to regain their title from the 2019 season. In contrast to it's Asian neighbours, Taiwan has been largely unaffected by the spread of Coronovirus, with life continuing as usual for locals. For the league participants, it will be the same 8 teams from the 2019 campaign. This includes Red Lions and Ming Chuan survived relegation playoffs to retain their top flight status
2020 Participants
1 Hang Yuen
2 Taipei City Tatung
3 Taichung Futuro
4 Taiwan Power Company
5 Tainan Steel
6 Hasus Taiwan Sports University
7 Taipei Red Lions
8 Ming Chuan University
The time we now live in with coronavirus football 'chaos' now being the norm, is a tough adjustment. While many clubs and associations adjust for financial realities without the game, others persevere. Though it presents difficult times, the game has gone largely quiet. Some remain, but at what cost, time will tell.