F1
https://lesserspottedfootball.com/video/1.mp4
---
---
---
Tranmere's Cup Run 2001

The FA cup. The essence to it's magic is the great David and Goliath battles which spring up throughout the competition. These are often best exemplified in the early rounds, when introduced to the public is a team of teachers, builders and butchers trying to pit their wits against seasoned pros from the football league. Such occasions provide a great narrative to the true underdog story. However in the upper tiers of the football league, the tale of the underdog is as alive and magical than at any level of the football pyramid. Case in point is Tranmere Rovers FA Cup run on the 00/01 season.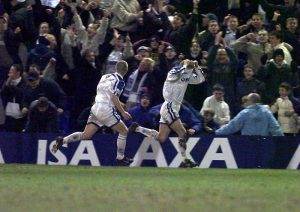 In the summer of 2001, Tranmere Rover's situation could've been considered quite poor. Relegated from division 1, bottom of the table and 11 points from safety ending their 10 year run at that level. Add to this they were left manager-less following John Aldridge's departure. However that year season will live long in the memory as a year of great achievements. Their run to the quarter finals of that years FA Cup embodies most, if not all of the underdog story.
The story begins with a 3rd round tie away at fellow first division strugglers Portsmouth. A tie which, on paper was quite winnable proved so as Rovers ran out 2-1 winners. This set up a mouth watering tie against local Merseyside rival Everton. Aside from the natural interest in a derby cup game, this game had special relevance for Tranmere striker Paul Rideout. Formerly of the aforementioned Everton, Paul Rideout had been a promising English striker in the mid nineties. This was best encapsulated by his 94/95 season comprised of a 1 in 2 strike rate in the league, topped off with scoring the winning goal in that years FA Cup final against Manchester United.
However following this, his chance in the Everton side became limited and at the end of 1996 he was transferred to China to play for the 'mighty' Qianwei Huangdao! Now something of a journeyman, with spells in MLS with Kansas before returning to china for two more years, his departure from Everton seemed to have derailed his career. However he was plucked from obscurity by Tranmere, where he was to finish out his career. This meant that this particular 4th round tie had extra spice, pitting the cup hero against his former victorious teammates, both of whom had failed to follow on from their cup success.
A crowd of almost 40,000 arrived at Goodison Park to watch the spectacle. In Tranmere's favor was a previous seasons run to the league cup final, taking premier league scalps of Coventry and Middlesborough and and FA cup run claiming West Ham. However, nobody could've predicted the final result, Tranmere Rovers 3 – Everton. 2 Goals form Mark Yeates with a Jason Koumas goal in between. Particular note to Tranmere's winger that day, Andy Parkinson who's pace was a constant thorn in Everton's side that afternoon, mainly against David Unsworth. Everton left in shock, Tranmere through to the 5th round to play another premier league side, Southampton.
The first match itself is widely forgotten. However it should be a footnote in history the Tranmere did get a well earned draw away to Southampton to force the replay back to the Wirral. However it served as only a prelude to perhaps the game of the season. In between games the draw for the next round revealed that the winners of the tie would face Liverpool. No bigger an incentive would be needed. Some 13,000 people squeezed into Preton Park for the mid-week evening replay. Rovers had got a taste for cup success and were keen to take another scalp. However by half time it was effectively game over! Southampton were rampant, dominating all over the field to lead 3-0 at the break, a score that may have even been a little kind to Tranmere. Goals from Kachloul, Tessem and Richards doing the damage. A chorus of boos saw Tranmere off at half time. Cup adventure over…
Or not….A rousing team talk from John Aldridge along with an attacking substitution (Barlow for Chanillor) sent the team out looking for little more than to salvage pride. More than pride, the took home the win. 59mins- Paul Rideout turns home an Andy Parkinson shot from close range. 70 mins- Rideout left unmarked at a corner to head hone from three yards, a roar goes up from the Prenton Park faithful. 80 mins – Paul Rideout caps off his hat-trick heading home from a Parkinson cross, Prenton park is bouncing, Southampton are stunned and Aldridge is left with the decision to stick or twist. Southampton are shaken and are there for the taking but the comeback could be undone by over zealous attack from a rush of blood to the head. However the home side were a model of composure.
84 mins- A throw in is flicked on into the path of Barlow in the 6 yard box to poach home the winner. A mix of disbelief and elation and ecstasy along with other various heightened emotions flood throughout the stadium. Cries for the final whistle ring-out as the game is in stoppage time. However the final piece of dram lies with Dean Richards of Southampton who in added time who just failed to connect to a cross with a gaping goal at his mercy. It was not to be as the football Gods were shining on Rovers that night, and following a final clearance, the result was signed to the history books. Tranmere had turned a 3-0 half time deficit into a 4-3 win to set up a dream derby tie with Liverpool. A true game of two halves…
---
News – Arminia Bielefeld sack Stefan Krämer

On Sunday evening DSC Arminia Bielefeld confirmed that head coach Stefan Krämer had been released by the club, ending his two and a half year association with the club.
The most recent defeat at home to Ingolstadt has proved to be Krämer's final opportunity to secure a positive result as a gap of five points has opened up between the sides in the relegation places and the rest of the side in the league.  Speaking about the situation in a press release by the club, the Arminia CEO Marcus Uhlig said,
The sporting situation has worsened after the 0-2 home defeat against FC Ingolstadt. With this decision we want to set new impetus in the fight to avoid relegation
Under these circumstances, the club decided that a new coach was needed to lead the club in their fight against relegation, leading to Krämer and his assistant Michael Bauer leaving the club.
The decision comes on the back of a season where Arminia have struggled for the most part, despite what had been a promising start. Krämer had taken his side as high as third in the early weeks before a run of seven consecutive dropped 'Die Blauen' towards the bottom of the table.  It was hoped that a surprising 4-0 against high flying Gruther Furth would provide impetus for a revival in form.
However, this failed to materialise as Arminia went into the winter break with relegation fears hanging over the side's heads and questions about Krämer's position at the club. Nevertheless, the Arminia board kept faith with Krämer over the winter, hoping that the break coupled with an injection of new signings would help reverse the clubs failing fortunes.
The upturn in form failed to emerge as Arminia have picked up a single point since the break, a last minute equalizer against St. Pauli. In a unanimous decision by the club, it was decided that this was insufficient to keep Krämer in the head coach job. According to sporting director Samir Arabi
"Given the current sporting situation, we have decided to establish a new coaching team."
Krämer's previous success to date at the 'DSC' has not gone unrecognised by the club. Taking over mid-season in September 2011, he helped guide Arminia to safety in the 3.Liga. This was followed by promotion in only his second season in the post, finishing second in the 3.Liga. During these two years in the 3.Liga, Arminia entered the Westfalen Cup twice, winning on both occasions. Speaking of his time at the club, Arminia president said,
"Stefan Krämer and Michael Bauer have helped the DSC Arminia enormously in a very difficult phase. I would like to thank them on behalf of the Association for their successful work over the past two and a half years."
The club has announced it will be presenting a new coaching lineup in a timely manner in the coming days.
---
Norbert Meier takes charge at Arminia Bielefeld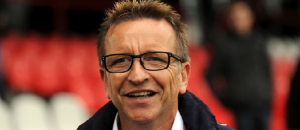 Arminia Bielefeld have confirmed that Norbert Meier is to be the man charged with the task of guiding 'Die Blauen' to safety, with a contract until the end of the season. The announcement came on Monday just hours following the confirmation that former coach Stefan Kramer had been released from the club.
Norbert Meier's first game in charge will be on Friday night against his previous club Fortuna Dusseldorf whom he led in a 5 year stint from 2008 until 2013, stating of the game "It's something special, where you have your living room to dispute the first game". Meier takes charge with Bielefeld in a precarious position sitting in the relegation zone five points away from safety, a situation Meier is acutely aware of "We have one goal: survival," proclaimed Meier. "We can only achieve that together."
At Dusseldorf, Meier had a successful start to his tenure by winning promotion from the inaugural 3.Liga season. Following a season of consolidation in the 2.Bundesliga challenging near the top of the table, Meier led Dusseldorf to promotion to the Bundesliga 2011/12 via a playoff win against Hertha Berlin. Previous to this Meier had also led MSV Duisburg to promotion from the 2.Bundesliga in the 2004/05 season.
It is the proven history of success at this level that Arminia fans will be hoping Meier brings to the club to help turn around their poor run of results this season. Speaking of the task ahead of him, Meier said "In the next two and a half months, all that matters is Arminia and we will work hard from today to achieve our objective,"
The appointment of Meier signals a shift in the character of the coach at Arminia from the previously relatively unknown Kramer. Meier has comes to job not only as a noted coach but also a renowned player having been part of Otto Rehhagel's successful sides of the 1980's which earned him 16 international caps and a place in the 1984 European championship squad.
A further contrast between the two coaches is while Kramer was perceived as having a positive, relaxed demeanor as a coach while Meier is seen as a more intense manager. This is highlighted by an incident in the Bundesliga in 2005 where Meier head-butted Köln player Albert Streit before imitating a fall to the ground himself. This resulted in a fine and three month suspension from coaching, ultimately culminating in Duisburg terminating his contract.
This shows a more ruthless desire to win which perhaps Arminia have lacked since their promotion to the 2.Bundesliga. This drive added to his track record may have been the factors that attracted Arminia to Meier. Speaking of the appointment DSC Sporting director Samir Arabi "The decision to appoint a new head coach position, we have not done easily but it weighed very carefully", adding  "We are pleased to have with Norbert Meier quickly found a successor to Stefan Krämer, which all of us are convinced by."
With little over two months left in the season, there is limited time to turn around the club's fortunes. However with Meier they could not have found a better replacement at this point in the season. It will be a fascinating story to see if Meier can in fact steer the club to safety by season's end.
---
Arminia Bielefeld vs. SV Darmstadt: Much is at Stake in Relegation Playoff

As league seasons come to a close around Europe, with many great sides declared their respective nations champions after battling, it cannot be overlooked that the battle for the bottom places can carry equal if not more importance to clubs, not only for short-term success but also long-term survival.
Such a scenario was played out in Saxony on Sunday as Dynamo Dresden hosted Arminia Bielefeld, with the sides entering the game level on points sitting right on the precipice of relegation to the 3.Liga. The winner would enter a playoff for survival whereas the losing side would have no such second chance.
The manner of the game gave a clear visual indication of the importance of what was at stake.  Each side had a player sent off as nerves began to show. Arminia soaked up intense Dresden pressure before being able to break out twice to snatch a two goal lead as Dynamo players, knowing that the club's future in the league and possibly their future at the club disappear, felt their hearts sink as they saw the passions of their supporters rise.
Not content with what they were seeing on the pitch, a small group of Dynamo supporters began to throw flares onto the pitch causing the game to be suspended for some 15 minutes  –  supporters who were not prepared to passively watch their side fall to defeat and relegation. These were supporters who had seen Dresden drop out of the 2.Bundesliga in 2006 to endure a five-year stint as a third tier club.
It was during this time that Dresden had committed to a new stadium which they now call home, though the relegation brought such a reduction in expected finances that the club briefly flirted with insolvency in 2008. A shortfall of €1.2 million was reported, a sum that the improved TV revenue in the 2.Bundesliga would have covered with a minimum of €3.5 million being allotted from TV companies to league clubs.
This example bears many similarities with the case of Arminia Bielefeld. Following financial mismanagement largely related to renovations at their own stadium, Arminia eventually had to rely on a €1.2 million bailout from the league in 2011 when their relegation to the 3.Liga was all but certain. The fund was created in 2004 to help prevent the demise of clubs such as fellow Westfalen side FC Gütersloh who declared bankruptcy in early 2000 just months after their relegation from the 2.Bundesliga.
As Bielefeld and Dresden emerged from their long wait to restart their all or nothing fixture, the fight for survival was reignited as Dynamo quickly pulled a goal back. They then quickly equalised to spread joy and relief around the stadium and leave Arminia fans staring at relegation after just one fleeting season in the second tier. The plot though would have one final twist, one final goal as Bielefeld's young Polish striker, Kacper Przybyłko, struck the decisive blow to leave a final score of 3-2 to Arminia, sending Dresden down.
Even with this result which left them ultimately finishing ahead of Dresden in the final 2.Bundesliga table, Arminia still stand to earn €500,000 less in TV revenue for the past season than Dresden. This arises as the distribution of television money is determined on a calculation of placing in the league in recent seasons, with emphasis place on the most recent years with 3.Liga placing counting for nought. As such Arminia's previous two-year stint in the 3.Liga continues to impact their financial state as being calculated as bottom of the chart, they are set to receive the smallest portion of the TV money in the league, set to be just over €3.8 million.
Although this is the poorest return from the TV pot that Arminia could have hoped for, a side which will not be feeling sorry for them is SV Darmstadt 98 who finished third in this seasons 3.Liga and as such are set to face Arminia in the two-legged relegation playoff (the first leg kicks off on Friday, the second next Monday). The structure of TV coverage at the third tier level will leave SV  Darmstadt  with approximately €800,000 for their great efforts this season, less than a quarter of what their opponents will receive though this is a fact Arminia have learned all too well in recent seasons.
Not only does TV coverage raise direct funds for the clubs involved, it also raises potential gains in sponsorship with every game guaranteed to be broadcast nationwide on pay TV with selected games shown free-to-air on Monday evenings. Additionally, the recent development of the 2.Bundesliga games being shown across Europe and even further afield as part of local Bundesliga TV rights deals, creates the attractive possibility of a large audience to attract sponsors or command higher fees from existing deals.
3.Liga sides can expect relatively small deals for occasional coverage from regional broadcasters often just for local derbies, with two types of exceptions being seen from last season's two promoted sides. Arminia's success in the campaign saw season long online coverage with a high number of games televised, while Karlsruhe had a mandate from the city that all games were required to be shown live for locals. However the drop in TV revenue is not to be solely blamed of the financial problems that some clubs experience in the 3.Liga.  Former DFB Director of Game Operations Helmut Sandrock explained
This is linked to the economic problems of individual clubs, but a differentiated approach is missing in most cases. The criticism relating to less TV money is completely unrealistic as the vast majority of clubs are more than satisfied with the TV money
Other factors are at play, but many of these can be linked back to the gap between the leagues. Added to the increased numbers watching at home, a place in the 2.Bundesliga promises more supporters at the grounds with league average attendances being over 17,000 in the previous two seasons. In contrast the 3.Liga is significantly overshadowed with an crowds averaging 4,569 in 2011/12, rising to over 6,000 last season with the participation of Karlsruhe, Aachen and Hansa Rostock.
The stark contrast in attendance is further emphasized when glamour sides that occasionally drop to the 2.Bundesliga (such as Hertha Berlin and 1. FC Köln) average over 40,000 per game, while in the 3.Liga the participating u-23 sides of Bundesliga sides and smaller teams such as Wacker Burghausen struggle to average 2,000 per game. There can be no clearer example of the gap in prestige between the two leagues.
SV  Darmstadt will themselves be targeting an increase in attendance at a higher level having managed to bring in an average of 7,068 through the gates so far this season. Upon promotion last season from 3.Liga both Karlsruhe and Arminia Bielefeld enjoyed an increase of over 50% in attendance figures, an increase which, if predictive, would put SV  Darmstadt 's attendance over 10,000, something which only two 3. Liga sides (MSV Duisburg and RB Leipzig)  could manage this season.
This creates a problem for smaller clubs who wish to participate in the league, with regulations insisting that clubs grounds meet minimum standards for the professional league, notably a minimum ground capacity of 10,000. This is a factor which caused Elversburg to play games in the first half of this season at league rivals Saarbrucken's Ludwigstadion while they redeveloped their home ground. The fact that relegation occurred at the end of the season means that the expense paid for the work was only necessary for half a season of 3.Liga football. The high level of expectation on clubs at that level is a situation which former Babelsburg CEO Klaus Brüggemann has spoken about in the past.
From the economic aspect, the 3.Liga is a money burning league, as the clubs are intended to create professional conditions and structures which must be met, but the economic conditions are not there
SV  Darmstadt  themselves will now be forced to spend on renovation work should they progress to the 2.Bundesliga. Following inspections this year by the DFL, their Böllenfalltor stadium was deemed to require many improvements such as a doubling in the size of their TV production area, improved floodlighting and the installation of under soil heating which in itself would cost in the region of 800,000.
There are plans for a €27.6 million redevelopment into a new Böllenfalltor stadium something which may only be feasible if the club is at the 2.Bundesliga level. It should be noted that mismanagement around the redevelopment of Arminia's 'Bielefelder Alm' stadium played a large part in their massive financial problems in recent years which left the club in a perilous state.
One rare occasion that these sides could expect a high attendance, potentially even a sell-out in such a new stadium is on the occasion when a top Bundesliga side comes to town for a DFB Pokal match. A place in the cup is extended to all teams in the top two divisions but only the top four finishers in the 3.Liga being guaranteed a place with regional cup winners making up the other participants. As such, a mid table finish in the 3.Liga may leave a side without a cup game, something which those in the top two tiers may take for granted.
Without the significant boost in finances that a place in the 2.Bundesliga would bring, many squads are forced to release a large number of their squad to accommodate the smaller wage budget that they are presented with. Most recently upon MSV Duisburg's relegation, 22 players were released from the club featuring a wide cross-section of their squad.
Highly rated players such as Timo Perthel have been able to progress their career by making a dozen appearances for 1.Bundesliga side Eintracht Braunschweig this season. However veterans like Antonio Da Silva, who has a Champion's League goal at the Nou Camp to his credit, and young players at the club who have not yet managed to make a significant breakthrough are liable to find themselves without a club. Arminia though have largely retained their 3.Liga squad and as such may not need to take such drastic action.
This litany of factors along with the passion and prestige of playing at a higher league level are what make this week's playoff fixture such an important fixture for both Arminia and SV Darmstadt . However despite the intensity that the games will be played at, the effect of the result may still depend on whether RB Leipzig can overcome their licensing problems to take their place in the 2.Bundesliga.
There is a similar situation that SV Darmstadt  has had to wait out on quite recently. The club had an impressive run to third in the league this season but they had not been expected to compete in the 3.Liga after finishing in the relegation places the season before. Their participation in the league this season was only made possible by Kickers Offenbach being refused a league licence having amounted 9 million of deb, while also benefiting from Aachen being declared insolvent mid-season who had to see out the season adrift at the bottom of the table following penalties from the league.
This is a further example of the financial turmoil that may await clubs in the 3.liga, a set of circumstances previously outlined by former SpVgg Unterhaching president Engelbert Kupka saying in 2012.
The 3rd League is a professional league, but is treated like an amateur league. That's in the future no longer acceptable and financially viable
---
DSC Arminia Bielefeld Struggle for Survival in Bundesliga 2
DSC Arminia Bielefeld's dramatic late equaliser against St. Pauli has become just the latest example of the unpredictable nature of the club at this current point in their history.
Arminia's return to the second tier of German football has been turbulent for most of this season. A sensational start to the campaign with only two defeats from eight, left them sitting as high as 3rd in the Bundesliga 2 table; however, this success was just as quickly undone with seven consecutive defeats, tumbling Arminia down the table to serious relegation territory. However, their slump finally ended with a shocking 4-1 thumping of title-challengers Greuther Fürth, but this promising result served to raise more questions about Arminia's form, as it demonstrated that the club is capable of both the ridiculous and the sublime.
On occasion, Arminia have shown themselves to be quite capable of competing at the 2. Bundesliga level, though perhaps their early season success led to some naivety about the challenges of playing at a higher level. 11 of the 38 goals Die Blauen have conceded have occurred after the 75th minute; additionally, Arminia have dropped a staggering total of 10 points after taking the lead in matches. This trend is exemplified by moments such as the conceding of a last minute equaliser at home to fellow relegation rivals Dynamo Dresden in the final game before the Christmas break when a crucial three points looked all but secured. Arminia is having to learn the lesson in securing results the hard way.
The concession of a late goals is part of larger defensive struggles that have plagued Arminia this season. They currently have the worst defensive record in the league, conceding 5 goals more than the table's bottom side (Engerie Cottbus) with Arminia's lone highlight being a clean sheet secured earlier in the season at St Pauli. However, the club is hopeful about loan signing Vujadin Savić from Ligue 1 side Bordeux, who will  add some defensive solidity during the Rückrunde.
In stark contrast, scoring goals has not been a problem for the Ost-Westfalen side, who have found the net 29 times this season. This rate is impressive, especially considering that only SC Paderborn and Union Berlin, two successful Bundesliga 2 sides, have better strike rates than Arminia. Their standout goal threat thus far has been Fabian Klos, who has adapted to the Bundesliga 2 with ease, with 5 goals and 4 assists, despite being ruled out for a few matches during the Hinrunde because of injury. Such form is sure to attract attention from bigger sides, which may tempt Klos away this summer if Arminia's from does not show significant improvement by the season's end.
If there is a man who has the potential to bring improvement to this side, it is surely current coach Stefan Krämer, who was appointed two years ago when Arminia were engaged in a 3 Liga relegation battle. This relegation escape was no easy task as Arminia were in the midst of a free-fall down the ranks of German football, despite having been a somewhat regular fixture of the Bundesliga including an extended period from 2004 to 2009. Krämer's impact was immediate as he galvanised the side, steering them clear to safety while also winning the Westfalen Cup in his first half season in charge.
In Krämer's first full season in charge, he lifted the side to 2. Bundesliga promotion, while also contending for the 3.Liga title with Karlsruhe up until the season's final week. That season was highlighted by a thrilling, but ultimately disappointing loss to Bayer Leverkusen in a DFB Pokal match that gave supporters an early glimpse of what Krämer's side was capable of against tougher opposition.  It was this evidence of improvement that led the club's hierarchy to keep faith with Krämer during Arminia's early season troubles this season – something the administration would be wise to do again as Ariminia fight off relegation once again.
For Arminia though, it is not simply the prestige of playing in a higher league that concerns the club. Financial trouble, which mounted from the costs of redeveloping the stadium at the Bielefeld Alm, followed by the financial repercussions of two relegations, has left the club in a position of steep debt, a situation familiar to many clubs who sit a distance away from the top echelons of German football. A trimming of the wage bill and a new sponsorship deal have somewhat stabilised the situation, but it is the place in the Bundesliga 2 and the vastly superior advertising and TV revenue that it brings is what is most important to the club, making anything other than league survival almost unthinkable. Fortunately, the club has been well-supported during home matches at Die Alm, drawing an average attendance of roughly 17,900 spectators per game.
For the moment, Arminia sit level with three other sides (Inglostadt, Erzgebirge Aue and Dresden) tied on 22 points, who make up two of the relegation places. The competitive nature of the league is apparent as even Fortuna Düsseldorf only sit at 10th place – a mere 4 points clear of safety. In a league so closely contested, a run of consecutive wins for any of the sides in the bottom half of the table should see them clear of any danger.
DSC Arminia Bielefeld are as well-equipped as any side to survive in the Bundesliga 2 this season, though based on their recent history nothing is can be certain for the inconsistent Die Blauen. Remember, we are talking about a team who has been promoted to the Bundesliga on seven occasions and played 9 seasons in third tier of German football. Expecting anything other than a topsy-turvy ride would be foolish.
---
Stefan Krämer: Tale of a Football Maniac

In recent seasons, Stefan Krämer has emerged as one of the most charismatic coaches in all of German football. Most recently, he has played a major role in the revival of Ost-Westfalen side Arminia Bielefeld, leading them back to the 2nd tier of German football prior to his very recent departure from the club. He achieved this feat with a fascinating combination of a thoroughly scientific approach to the game, while maintaining a relaxed and engaging demeanor, charming people across the club – and league as a whole.
Early days in Köln
Krämer was born in Mainz on March 23rd 1967 and throughout his life has always lived close to the Rhine. Despite his rootedness, his first football love was Hamburger SV, a love which remains today. At the age of 8, Kramer attended his first HSV (vs. Eintracht Frankfurt) football match. Instantly, he fell in love with football, recalling that "the fever gripped me". His love for HSV, however, was came a bit later, since the blue shirt he wore that day was merely something to wear.
Krämer currently lives in Königswinter away from the all the football activity in his life. He is easily identifiable by his curly perm haircut which is specially cut for him by a friend. However, Krämer cares little for others' perceptions of his appearance: "In my image I place little value .. I can only be as I am." Statements like these create the public perception of Krämer being a genuine character.
This genuineness is one of the key reasons Krämer has won respect from his colleagues and the wider football public. Currently, Krämer is a bachelor, though is active in caring for his four godchildren, two from his brothers and two from his best friends; he also sponsors through charity organizations in Brazil and Africa. To relax, Krämer enjoys taking his dog for a walk by his home, a place where he claims "to feel free." However, even at home, football continues to run through his mind, as Kramer himself explains: "I'm generally quite well out of bed, but after a win it is a little bit easier."
Perhaps the defining period of Krämer's life was his move to Köln to study at university. He attended the Sports University in Köln where he not only developed his career studying sports science but also developed affection for the city. He described the city as being particularly beautiful and liking the mentality of the people, with his favorite thing about the city being the Köln Karneval, although he regrets not being able to regularly attend it after having moved away from the city.
His time in Köln has left an indomitable mark on the football future of Krämer. Aside from his first love of Hamburger SV, Krämer became a supporter of 1. FC Köln during his time in the city, describing it as "a club with character". He regularly attended Köln games and continues to be very open about his lasting support for the club saying it is "clear that I have a great affinity for the club". He was also able, through his work at the university, to be introduced to experienced people in the game such as former Köln player and West Germany international Heinz Hornig. Outside of university, Krämer and Hornig would also team up in a football environment.
From player to manager
Stefan Krämer's first foray in football began when he played as a left winger for FV Bad Honeff in the Oberliga Nordrhein. Krämer, though, speaks very openly about his time as a player being honest about his limitations. "For me, I didn't have enough to make it to the top. I was only one footed and I lacked a little speed." During his time as a player Krämer was always interested in the broader aspects of the game, taking note of the good or bad elements of coaching that he was exposed to. Despite being a player, Krämer says "I tried to think like a coach".
This approach served Krämer well following his move in the mid nineties to Oberliga side FV Rheinbrohl. There, Krämer established himself as a leader in the side and became captain. However, his playing career was to be cut short in 1998 due to a knee-ligament injury. Despite this setback, the injury provided an opportunity for Krämer, as he made the switch to become coach at Rheinbrohl, his first job in such a role.
Following two promising seasons as coach, Krämer took up an offer to become coach at SG Irlich/Neuwied. He made an instant impact there in his first season as coach by winning the Kreisliga 'A' title by 6 points in the 2002/2003 season, thus earning promotion to the Bezirksliga-Ost for the following season, guiding his side to a safe 10th position in the sixth tier of German football.
Success at Roßbach
In the summer of 2004, his previous success as a coach was rewarded with an offer to make yet another jump in standard to take charge of SV Roßbach/Verscheid of the fifth tier Rheinlandliga. It was during a nine-year stint with Roßbach that Krämer came to national attention on the back of significant success with the Rheinland club, in particular the club's exploits in the Rheinland Cup. As before with Krämer, success came quickly, as Roßbach improved to finish in 3rd place in his first season in charge.
His second season was even more successful, as he managed to win the league, but the victory was bittersweet for Krämer as his side was refused promotion because the Rheinland Federation ruled that SV Roßbach/Verscheid were two separate clubs competing under a single name and, as such, were ineligible for promotion. Not only did this mean that they remained in the Rheinlandliga but Roßbach also missed out in the final of the Rheinland Cup, eventually losing 2-0 in a closely-fought contest against TUS Koblenz.
The 2006/07 proved to be one of Krämer's most successful and most memorable seasons to date. Arguably,  the highlight was Roßbach's appearance in the first round of the DFB Pokal. As well as winning the Rheinland Cup, Koblenz had also won promotion to the 2.Bundesliga and as such automatically qualified for the Cup. Therefore, the qualifying place they had earned by winning the Rheinland Cup was passed on to the runners up, Roßbach.
Their reward was a glamour tie against Bundesliga outfit Borussia Mönchengladbach. Media swarmed on the normally quiet Roßbach as Krämer and his players adjusted to deal with the added media attention. Despite a respectable 4-1 defeat, Krämer still holds fond memories of that game. "This was a great story for all of us. The name SV Roßbach quickly became known nationwide. We will never forget this experience. To be part of the event was just great!"
The season was crowned with a second league title in a row, and with the merger of Roßbach-Verscheid having been completed, promotion to the then-fourth tier Oberliga Südwest was secured. That season also saw a second successive appearance for Krämer's side in the Rheinland Cup final, though yet again it was met with a 2-0 defeat to Koblenz. In their first season in the Oberliga, Roßbach finished a very respectable 12th in the league in its final season, as the fourth tier was to become the fifth tier with the introduction of the national 3. Liga in the 2008/09 season.
It was during this time that one of Krämer's many superstitions linked to football began to emerge. Before each game it became necessary to stop at a petrol station to purchase a pack of chewing gum. This was something he had once done before a victorious game and from then on the two became linked for Krämer, making sure to stick to this routine for the duration of his time at the club. There was a similar occurrence later in his career with Bielefeld when a short sleeve shirt worn during his maiden win against Kickers Offenbach became a lucky charm of sorts, so it was worn at all games, including at 3ºC winter temperatures in Chemnitz. Luckily, the streak was ended with defeat to Carl Zeiss Jena and Krämer returned to much more suitable attire thereafter.
During his time in amateur football, Krämer had a colorful selection of jobs to earn his income. He originally had a job as a research assistant in Köln which came up from his time studying there. This was supplemented by a career working in insurance for nine years dealing with the cover of professional athletes. Despite an extended period in this field, Krämer never fully embraced the formal nature of the job, being told by his employers, "[They said] Actually you should be dressed business-like… but I never did!" As is apparent, sport is something which is sure to arise when the name of Stefan Krämer is mentioned. The exception to this is his love of music, including his time working as a DJ in Köln.
While earning a living as a DJ in such venues as the 'Rose Club' and as far away as Bonn, Krämer was able to indulge in the other great passion in his life. To date, he still has a mixer and two turntables along with his 20-year-old record collection at the ready, so an impromptu performance is always a possibility.  During performances, Krämer's preference is "to lay on darker and nosier stuff on the decks, including 'New Model Army' and The Sisters of Mercy'". Other favorite music of Krämer includes Oasis, The Smiths, Pixies and Beck, though it has been reported that his favorite band is UK formation 'The Opposition'. This eclectic taste in music stems from his curiosity as a youth. "My hobby was usually to buy a box at a flea market and look at it at home, even if it was rubbish!"
In the 2008/09 season Krämer guided Roßbach to their highest finish of 8th in the Oberliga and another Rheinland Cup final defeat, this time losing to Eintracht Trier 2-0 in extra time. This was as high as he would take this side, as he followed up his two final seasons at the club with a 14th and 13th position finishes, drawing praise from Roßbach President Ingo Dittrich. "Stefan's has been an outstanding performer over the years and has made the name SV Roßbach/Verscheid a regular fixture in the Oberliga. Our relationship will always remain very close"
Arminia, his one true love
Krämer's time at Roßbach ended when he received an offer for an interview to become Markus von Ahlen's assistant at 3. Liga side Arminia Bielefeld. Having been approached by Arminia, two more rounds of interviews followed before Krämer was given the assistant job, not without being philosophical about his departure from Roßbach. "In football there is always change". However Krämer still has a place in his heart for the club and he attends as many games as he can, including the semifinal and final of Roßbach's victorious 2012 Rheinland Cup campaign. He still keeps track of Roßbach's progress and "To see how Roßbach are doing, my first glance after my games with Bielefeld is to the teletext".
Krämer was finally appointed Arminia Bielefeld assistant coach on July 1st 2001 as assistant to Markus von Ahlen. The two men were already familiar with each other as Krämer had on one occasion in the past taken part in observations of Bayer Leverkusen's youth team training sessions with von Ahlen as coach. This working relationship was not to last long at Bielefeld, as a string of early season poor results left Arminia at the bottom of the table, which resulted in the von Ahlen being released and Krämer taking over his place as head coach on the 21st of September of that same year. Krämer instantly set about putting his own impression the side.
In terms of a football philosophy Krämer references legendary Dynamo Kyiv coach Valeriy Lobanovskyi as an inspiration, so much so that he is still fascinated by the Ukrainians' style of play today. He admits to still having a collection of old Dynamo Kyiv games on video, checking them to analyze how efficiently the players covered space on the pitch, so much so that Krämer said that he would "press stop [on the video] to see if Dynamo had 12 players on the pitch". Krämer, though, points out a difference between himself and Lobanovskyi, that being that he is less keen on sitting passively on the sideline during games.
For his own sides, Krämer's work with his teams begins  by building a good relationship with his players, though only under the right terms, not wanting to be loved as a coach but rather accepted as reliable and competent. He tries to achieve this by giving his players clear agreements, rules and definitions as well as regular objective feedback, which he believes helps them develop quicker.  This is not to say that is an impersonal relationship, as he stresses the importance of always being available to his players with any problems or comments that they may have.  These methods come from Krämer's own experience as a player. "I treat the boys as players how I would've liked to have been treated like myself"
On the pitch, the main requirement that Krämer has of his players is effort. He does not rely on a rigid tactical and formation system but rather on how players interpret the position on the pitch they find themselves in. This is very much in the style of Lobanovskyi in terms of covering such amount of ground that it is not always important to have possession. "Sometimes it's more important that the opponent has the ball, as this opens the chance for counter attacks". This approach of pressuring the opponent occurs all over the pitch, with the strikers seen as the first line of defense. This results in Krämer's sides being very practical, which is seen as something as a necessity "Football is not a circus or entertainment, it is a results based sport".
This pragmatic approach to the game is something that has developed from his background in sports science. In particular, he has worked on his players' fitness. This approach not only applies to his players but also to how he views the opposition. On his holiday before the 2013-14 season, Krämer was more focused on watching over 40 videos of 2.Bundesliga. This is typical of a man who Roßbach chairman Ingo Dittrich described as "a football maniac who lives 24 hours a day for football". The lone exception to this is when Krämer is at home with his family and friends, where he feels he can relax.
His first two seasons in charge at Bielefeld were very successful. Having taken over from von Ahlen with Arminia in the relegation zone, he steered them clear to mid-table safety by the end of the season. Arminia's downward spiral was halted as Krämer completed the turnaround by securing promotion through a second place finish in the 2012/03 3. Liga season. This success was supplemented by two wins in the Westfalen Cup against local rivals Preußen Münster in 2012, following it up with a consecutive win in 2013 against SC Wiedenbrück. Arminia's success caused Krämer to follow through on an earlier promise of getting a tattoo of the club, which is now emblazoned on his chest close to his heart.
Both cup victories earned Arminia the right to play in the DFB Pokal, which included two first-round wins against SC Paderborn and Eintracht Braunschweig in 2012 and 2013 respectively. This set up two subsequent second-round ties, both coincidentally against Bayer Leverkusen, in which they lost 3-2 in extra time at home last season and 2-0 also at home this season. Last season's tie which went to extra time was an epic battle which ultimately further helped to etch the name of Stefan Krämer into the minds of the football public as well as earning much praise for the Arminia faithful. Sporting director Samir Arabi said "Krämer has brought to life the existing potential at DSC".
The beginning of the end
Such a sudden amount of success was perhaps the undoing of Krämer at Bielefeld, as his side struggled to adapt to life in the 2.Bundesliga. There was early promise rising in their first season back in the second tier, rising as high as third in the table early on. However, Krämer's loyalty to the players that had served him so well in the 3. Liga and perhaps naive tactics began to tell, as results began to fall away. This included a run of seven consecutive defeats which was ended with a hard-fought 2-1 win against FSV Frankfurt. It was followed by a 1-1 draw against Dynamo Dresden in which Dynamo heartbreakingly equalised in the 92nd minute and then a 4-1 hammering of high-flying Greuther Furth. However, this proved only to be a false dawn for the side as form did not pick up after the Christmas break despite numerous signings, which resulted in the sacking of Krämer in February after a 2-0 home defeat to Ingolstadt.
It was noted, perhaps as an omen by his tattoo artist, that the blue Arminia logo across his chest was of a simple variety and as such would be easy to remove. However, Krämer is a man who is aware of the journey he has come on in football so far, always holding special regard for his previous clubs and often attending their games when time allows him to. Speaking after his departure from Roßbach, Krämer talked about how he still maintains contact with his former staff and assistants though admitted that " in football, you will always have to change". This is a reality Krämer will have to deal with, having been let go from a club for the first time in his relatively-young coaching career.
Krämer's famously positive outlook is sure to help him prosper in a long career in football management into the future. When interviewed in 2005, he spoke of his enduring enthusiasm for life and football. "If you're lucky you can do what you love, then you don't really have to work." This enthusiasm is sure to carry on as Krämer reflected on where he is in his life. "I used to think that at 45 life is over, that you sit in the garden and everything is boring. Now I'm 45 and, somehow, I've not grown mentally since the age of 20". This is a positive attitude which one can't help but be affected by.
Always a popular figure in the game, Krämer has become a widely recognized figure in recent years due to his success in football, of which there is surely more to come. It is hoped that this is the case so that the football public can continue to experience the character of Stefen Krämer long into the future.
---